by K. N. Ghiglione
Encaustic – Literally means "created by fire". Dating back to the 5th century B.C, encaustic paintings are created by melting together natural beeswax and damar (tree) resin. Colour is added by powder and oil pigments. The coloured molten wax medium must be applied quickly. The medium exhibits as thick, lush and sculptural. A torch or heat source - the fire - then fuses the new wax application to the previous wax layer. The surface can also be scraped and excavated to reveal the history of past layers. Encaustic is a natural medium and speaks directly to your senses. The surface is exotic to the touch. The aroma of honey and beeswax plays to your sense of smell.
Transporting – Handle the painting only when it is cool to the touch. Protect the edges and corners. Flat plastic wrap is the best material to cover the surface. Do not use bubble wrap. Do not use any fibrous material such as wool, paper or cardboard to directly cover the surface of the painting. Handle the painting by the outside frame, the back hanging wire, and the back supports when moving or hanging. Avoid extreme temperature shock when moving from indoors to outdoors.
Hanging - Handle the painting only when it is cool to the touch. The painting can be placed anywhere any living plant, animal or people habituate. Avoid extremely hot, close or focused heat sources. Avoid fingers and objects touching the surface of the painting when it is hot. Once positioned, the painting will be trouble free and withstand normal heat and cold suitable for any living thing.
Lighting – Lighting and placement can result in dramatic viewing results. The encaustic medium benefits from proper lighting conditions. Focused lighting will reveal the depth of the layers of the semi-translucent wax. Indirect natural light from a window often brings out the painting's quiet sculptural qualities. Halogen lighting can be used providing the bulb is not in close proximity or contact with the painting's surface.
Polishing – Beeswax is a natural material, so the painting will 'breathe' for some time after it has been created. Handle the painting only when it is cool to the touch. A deep lustrous glow can be re-instated to the surface by gently 'buffing' or 'polishing' the surface by hand. It is okay to touch the painting! Use a soft cotton cloth, turning it repeatedly while buffing. As the painting ages, the painting's lustre will remain for long periods.
Cleaning – Cleaning can easily be done in the event the painting needs to be cleaned due to dust, splashes and so on. Handle the painting only when it is cool. Use only cool water. If needed use a drop of dish soap. Rinse the solution with clean, cool water. Buff as necessary.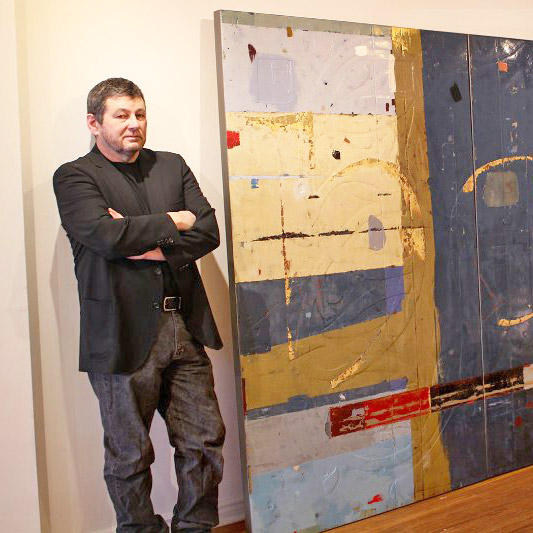 Kevin Ghiglione and "Silence Between Kingdoms" before shipping to France